13 décembre 2014
Bien que les équipes de course amateur aient été la règle plutôt que l'exception pendant une bonne partie du vingtième siècle, beaucoup de gens pensaient qu'elles étaient en voie d'extinction au cours des années septante. Aucune équipe supposée amateur ne pouvait exister longtemps sans être sponsorisée, dans la plupart des cas, par un grand nom de l'industrie du tabac ; et même avec un tel soutien, il était encore difficile de réussir.
Ce fut donc complètement à contre-courant que le Team Hesketh débarqua en Formule Un en 1973 puis, sous les rires et les quolibets de ses rivaux, commença à obtenir des résultats intéressants avec une March 731 de location. Il ne fallut alors plus beaucoup de temps pour que les rires ne se transforment en admiration et envie, enfin que le Team Hesketh soit accepté comme membre à part entière de la Grand Prix 'Society'.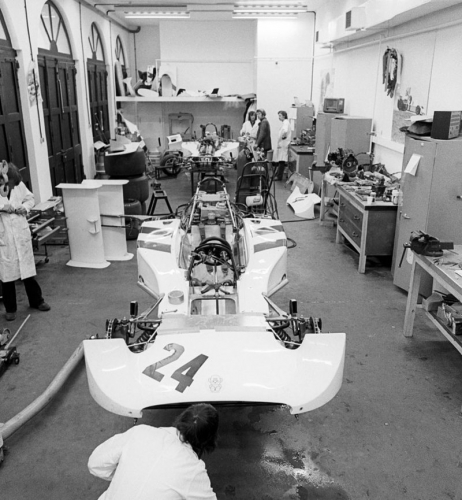 par Alain Hawotte
Le Team Hesketh
A l'origine de cette équipe était un passionné, garçon extraverti et excentrique qui profitait d'un héritage important et qui prenait un plaisir fou à le dépenser en s'amusant…

Fan depuis toujours de courses et de vitesse, il avait vite fréquenté Anthony « Bubbles » Horsley, un pilote de F3 en 1970, pilote sans grands résultats d'ailleurs, mais particulièrement bon vivant, ceci entrainant probablement cela…! Horsley devint vite le bras droit de notre jeune Lord. (1)

En 1970 également, un certain de James Hunt tentait sa chance. James était rapide, mais cassa tellement de March que son nom fut vite transformé en Hunt « THE SHUNT » (l'accident) par raillerie, se fâcha avec Mosley, et fut viré mi-72. James rencontra alors Horsley en Belgique du côté de Zolder, dans les stands pour certains, dans un dancing pour d'autres… Un accord fut vite trouvé et Hunt finit la saison dans une F3 du nouveau team spécialement créé pour l'occasion par Horsley et son mécène.


Pour 1973, on acheta une Surtees de Formule 2 mais Mister « Shunt » ne fut pas long à la mettre hors service en essais privés… En récompense James se vit confier une… Formule 1, une Surtees encore, pour la course des Champions et il finit troisième ! Le patron décida que c'était perdre son temps que de rester en F2 et on commanda une March tout en débauchant un jeune de là-bas, Harvey Postlethwaite, pour concevoir, dans le château du boss figurez-vous, une nouvelle F1.

Hunt, comme libéré par la confiance d'un team dévolu à sa cause et à sa façon d'aborder la course, tout en joie, rire, et frasques, explosa : un premier point au Grand Prix de France, quatrième à Silverstone et pour la dernière course une superbe seconde position derrière Ronnie Peterson au GP des USA. La March privée avait fait mieux que l'usine.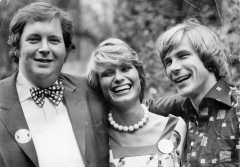 Fallait-il donc prendre au sérieux ces joyeux drilles à la chemise blanche brodée d'un nounours et cette F1 sans aucun sponsor splendide dans sa robe immaculée aux couleurs de l'Union Jack : blanche à bandes rouge et bleue ? (2)

La question se posait car année-là, l'écurie était considérée avec réserve par les organisateurs. Soirées, champagnes, bateaux de luxe, Rolls Royce et jolies filles étaient le quotidien de l'entourage du Lord.

Dès le début de l'année 1974, une nouvelle F1 le Type 308 de Postlethwaite était engagée pour le Trophée International de Silverstone et première sortie, première victoire appréciée par son public, moins par ses rivaux très sérieux, trop sérieux peut être.

La saison de 1974 confirma les espoirs et la voiture vierge de tout sponsor bataillait au premier rang.

1975, fut l'année la plus marquante de l'écurie avec de nombreuses fêtes et surtout une, mémorable, après la superbe victoire de Hunt au GP de Hollande à Zandvoort.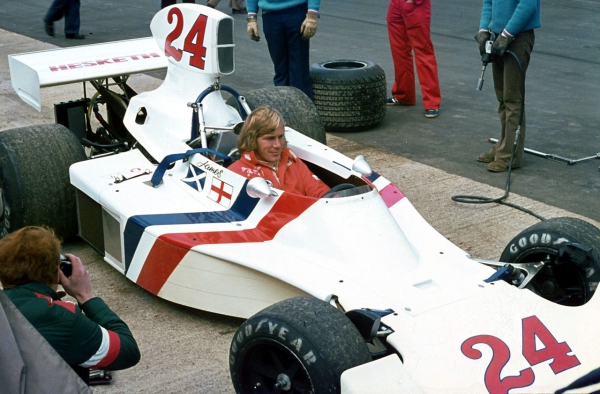 Mais « Le Patron », comme il l'avait fait broder en anglais « the Boss » au dos de sa chemise, n'avait malheureusement pas un trésor sans fond... Il avait toujours financé ses voitures seul et sans sponsors, et l'argent commençait à manquer : les Rolls devenaient moins nombreuses, le bateau moins long, le champagne moins frappé mais les filles restaient jolies… mais fin 1975, Le Boss décréta que la F1 et la course ne l'amusaient plus trop et décida de stopper toute activité… en réalité les fonds étaient épuisés… Hunt s'offrit à McLaren et y remplaça Fittipaldi pour gagner le titre après une saison dramatique que nous connaissons tous.
Les nouvelles voitures furent vendues à Frank Williams qui venait de s'associer avec Walter Wolf, magnat canadien du pétrole. La 308C de Postlethwaite devint la Wolf-Williams mais sans grand succès car mal née, ce que Hunt avait probablement perçu fin 1975 lors des premiers roulages.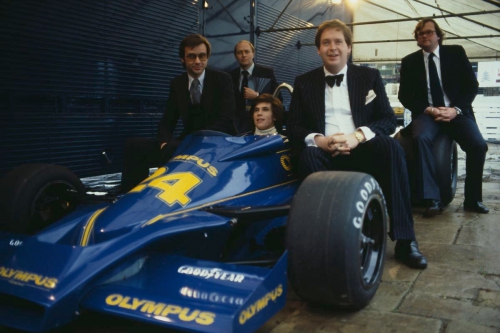 De son côté Bubbles Horsley maintint en 76 et 77 un ersatz du team légendaire en fin fond de grille en ayant recours à des pilotes payants avec l'ancienne voiture d'abord, puis avec la jolie 308E de l'ingénieur Franck Dernie. Remarquée pour son sponsor « Penthouse » et sa décoration, une jolie playmate ornant ses flancs, mais sans pilote de grand talent il était difficile de retrouver l'enthousiasme des débuts et dès 1978, l'écurie, joujou délaissé d'un millionnaire britannique se retira définitivement des grilles.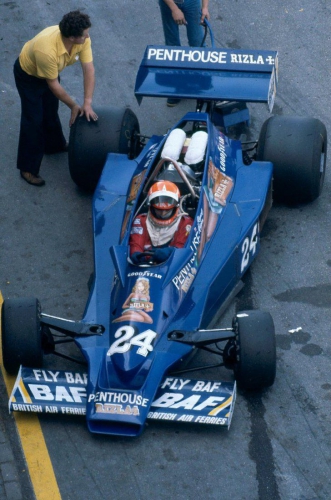 Telle fut l'histoire belle et grivoise de l'écurie HESKETH, le dernier team romantique de la F1.
(1) Anthony 'Bubbles' Horsley fit partie de cette bande britannique de joyeux lurons comprenant notamment Jonathan Williams, Charles Lucas, Frank Williams, Charlie Crichton-Stuart et Piers Courage. Leur repaire était situé à Harrow - Flat 6, 283 Pinner Road. Si les murs pouvaient parler, ils auraient beaucoup à nous raconter sur les frasques de ces jeunes pilotes mais aussi de visiteurs illustres tels que Jochen Rindt ou encore Innes Ireland. Ce fut Charles Lucas qui présenta 'Bubbles' au jeune Lord Thomas Alexander Fermor-Hesketh.
(2) Extrait d'un article de Sports Illustrated, May 13, 1974 by Robert F. Jones:
"Reading," says Alexander, "is a consuming passion of mine. Only one of many, mind you." He is recovering now from his bout with the flu, though a nasty cough persists, making him sound all the more like Robert Morley dying in African Queen. "I don't think that reading and motor racing mix that well—at least, most racers don't read. They don't do much more than race, actually. They can't; it's so demanding a sport. He who reflects, one might say, cannot race. Imagination and action are to some extent antithetical. Yet the sport is deep in history—deeper even than the Mosses and Fangios and Nuvolaris. It goes back, in my mind at least, to those wonderful point-to-point horse races of the 18th and 19th centuries, to the Regency rakes who drank far too much and celebrated the Black Mass and did all sorts of dreadful things, including riding too fast for their own good. Daring should be fun."
"Nothing disturbs me more than that pale cast of mind which insists on removing the joy from action, which reduces it to a dry, commercial, mathematical set of formulae. When I first met Bubbles—I was in my teens then—he confirmed what I had felt as a boy, reading about motor racing: that it was Adventure. So much of that has gone out of the sport in the past 10 years. We want to see if it is still there. Not that Adventure is a sloppy, haphazard thing. It can coexist with sound engineering, intelligent teamwork, canny driving—all of that. But the whole effort must feel Adventurous. A state of mind that obviates ulcers. That is why I avoid sponsorships. Once one falls into the debt of the big companies, once one assumes those heavy responsibilities, the joy drains from the game as surely as oil drains from a split crankcase."
He coughs heartily and swallows half a mug of tea.
"Hesketh Racing is bankrolled entirely by my own company, Hesketh Finance. I use none of my inheritance for the racing effort. Oh, I'm not that moral a man, but I draw the line at squandering the family fortune on racing and leaving my widowed mother destitute. The new car, and even more the new V-12 engine, constitute great gambles, I admit. But what I want to do, quite frankly, is win the World Driving Championship with the minimum of outside help, win it on our own, out of our own skill and wit and—dare I say it?—daring. I want us to be remembered, not as a superteam built of superstars and supersupport, but as people who made it all seem to be fun. That may sound a bit wet in this workaday world, but I mean it. You know, I still have a box of my childhood toys in my room. Now and then, I take them out and play with them."
And if Hesketh Racing does finally win the championship, what then?
"I have a few more ambitions," his Lordship admits. "I would like to win the Indianapolis 500, with an all-girl pit crew. Can you imagine the look on A.J. Foyt's face? And I would like to enter us in American stock-car racing. We've seen a bit of that, and it's the most excitingly pure form of amateur racing in the world. The American South is closer to the world that I grew up in than any part of Europe or Britain. I love it. But ultimately, if the truth be told, my ambition is to win back the America's Cup for England. We lost it 125-odd years ago due to a lack of daring. I think I could find the right people to build the right boat and sail it right enough to win. Oh, we would have to live in America for a year, learning the currents and tides and winds off Newport, but that would be part of the fun, wouldn't it?"
Spot on, your Lordship.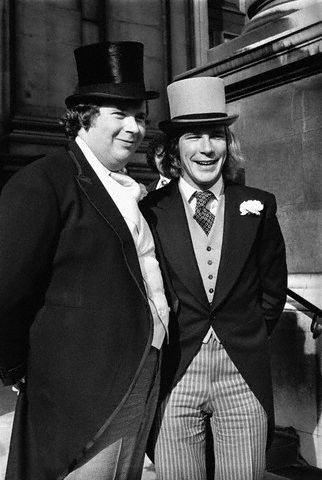 - Photos ©D.R.
12:03 Publié dans b.horsley, j.hunt | Tags : lord hesketh, james hunt, hesketh racing | Lien permanent | Commentaires (0) |
Facebook | |